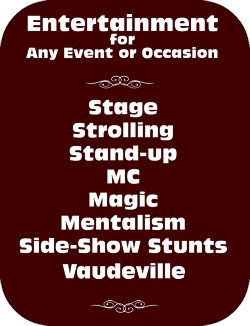 Fairs and Festivals
Victor has been performing fairs and festival in pert near every state in the union, in Cananda, Bermuda, Japan, and Korea. He started his professional carreer off as a restaurant magician and moved into illusions shortly there after. His fair and festival show can be as big or as little as you want it to be.

Close-up Strolling Magic can be a lot of fun around the grounds or at special funtions, dinners,and events happening around the fair. Victor is always dressed to recgonized, but not ridiculous.
Victor can also take the close-up experience a bit further with his Prof Victor identity; a Hi-Wheel riding close-up magic wielding magician. In this case, Victor wears period clothing.


Stand-Up Stage Shows can be performed anywhere on your fair/festival grounds. In this show Victor performs comedy magic and mini illusions including making a child from the audience "float". There are bunnies and doves in the show as should be expected. The show is colorful and full of audience participation.

The Illusion Show is with your stage or ours. This is the big show with big illusons. Everything you would expect, cutting girls in hlaf, making people float, animals appearing (though not the exotic type), big laughs, bigh "aws"! We provide the lights, the sound, and everything needed for an awesome show. We can use your stage or ours.
RESUME
, Cherokee Fair (IA)(x5), Bremaer Co Fair (IA) (X3), Hundsonville Comm. Fair (MI (x3), Casey Co Fair (KY), World Chicken Festival (KY), Maspeth Children's Day (Queens, NY), Lee County Fair (IA)(x3), DuQuion State Fair (IL), DeKalb Outdoor Theater(I) (x2), Fl Strawberry Festival (FL), LA Catfish Festival (LA), Utah State Fair(UT),Mannington District Fair (WV)(x4), Mohave County Fair (AZ)(x2), Swiss Wine Festival (IN), Clarksville Fair (TN)(x2), Hometown Days (MI), Goshen County Fair (IN), Lawrenceburg Fair (KY), Winchester County Fair (KY), Chocolate Festival (WI), LA Spring fair (CA), Three County fair(x2) (MA), Franklin SOuthampton Fair (x2)(VA), Eastern New Mexico State Fair, Plymouth County Fair (X6)(IA), Coconino County Fair (AZ), Madera District Fair (CA), Watonga Cheese Festival (OK),Southern New Mexico State Fair (NM), Delaware County Fair(x2) (NY),Orange Grove Festival (CA),Burlington Chocolate Festival (WI),Clermont County Fair (OH),Quassy Amusement Park (CT)(x2),Beech Bend Amusement Park (KY)(x5) Wolcott Fair (CT), Union Fair (ME)(x2), Willard Festival in the Park (OH), Heritage and Freedom Fest (MO), Red River Valley Fair (TX), Tri-County Fair (NV), Titus County Fair (TX)(X2), Laurel County Fair (KY)(x6), Hearts of Gold Cantaloupe Festival (Fallon, NV)(x2), Isanti County Fair (MN),Ulster County Fair (NY)(X2), Calumet County Fair (WI), Yamhill County Fair (OR), Lewis County Fair (ID), Larimer County Fair (Loveland, CO), Walker County Fair (Huntsville, TX), Washington County Fair (OR),Josephine County Fair (OR)(X2), Deschuttes Co Fair (OR)(x2), Silver Dollar Fair (Chico, CA)(5x), Mendocino County Fair (Bonneville, CA), Lincoln Co. Fair (OR), Kings County Fair (CA), Douglas County Fair (OR) Marin County Fair (CA)(2X) Trinity County Fair (CA)(X2), Tehema Co Fair (4X) (CA), Modoc District Fair (CA)(X3), Glenn Co Fair (CA)(X5), Redwood Acres Fair (Eureka, CA), Tulelake Fair (CA) Yolo Co Fair (X2), Inter-Mountain Fair (Mac Arthur, CA)(2X) Caruthers Fair (CA)(2X), Calico Spring Festival (9X) Calico Halloween Fair (16X) Calico Heritage Fair (6X) (CA) Colusa Children's Festival (CA)(X10), Glenn County Harvest Festival (CA) Arroyo Grande Harvest Festival (CA) Upper Lake Harvest Festival (CA) California Harvest Festival (Gridley, CA)(2X) Children's Festival (Yuba City, CA)(2X) Trinity Children's Festival (CA) Tomato Festival (Fairfield, CA) Fiesta For Schools (Redding, CA) KIXE Kid's Day (Redding, CA)(2X) Sacramento Reads (CA) Loomis Plum Peachy (CA) Cotton Festival (Buttonwillow, CA)(2X) Enchanted Evening (Citrus Hts, CA) Country Classics (Redding, CA) Portfest (West Sacramento, CA) Egg Plant Festival (Loomis, CA) Death Valley Days(2X) Feather Fiesta Days (Oroville, CA) Taste of Solvang (CA) CA Dry Bean Festival (Tracy, CA) Yreka Oktoberfest (CA) Black Bart Days (Cloverdale, CA)(4X) Robert Mitchum Days (Jamestown, CA) Western Round-up (Yuba City, CA) Kid's Fest (Stockton, CA) Family Fest (Sacramento) Roseville Strawberry Festival (X2) (CA), Silverado Days (Buena Park, CA)(X3), Manteca Pumpkin Festival (X2), Dinuba Family Fun Days (X3) (Dinuba, CA), Anza Family Fun Day (Anza, CA) Clovisfest (Clovis, CA)(X2) Hughson Nut Festival (Hughson, CA), California Pizza Festival (Lemoore, Ca)(X2), Riverside Orange Blossom Festival (Riverside, CA), Gilroy Garlic Festival, Yeah Baby Expo (San Diego(3), San Francisco(2), Sacramento(2),Dog Town Days (Paradise, CA)(X3),Newark Days (CA)Oroville Museum Row (CA)
COMMENTS
To Whom it may concern:Victor Kent has performed at the Silver Dollar Fair for the last three years. He has an excellent act that all ages can enjoy. Mr. Kent is reliable and his shows always start on time. He is self sufficient, in that once he is shown his stage or performance area he is not a bother to either fair staff or crew. You will definitely get your money's worth with the Victor Kent show. I am sure he will meet all of your expectations.
Sincerely.
Tom DiGrazia, CEO Silver Dollar Fair, Chico, CA
This magic show played great to everybody, from the kids and adults at the regular shows to the Senior Day audience. We will definitely want you back!
-John GentryTehema District Fair Red Bluff, CA
The Kent Family Show drew large audiences and their ability to interact with the audience was tremendous.
Rick Kissock, Exec Director Lincoln County Fair
The Kent Family Magic Show was engaging and brought together crowds of all ages. Their show wowed children and adults alike.They are extremely easy to work with.
Traci Green, CEO Modoc District Fair
"The overall performance, presentation, appearance of the entertainers, the appearance of the props, and the professional level were all 5 stars out of 5! We would recommend this program to others and we will use you again!"
-Lisa Barber, Utah State Fair
The festival surveys and comments at the festival were highly complimentary. We are so glad you were such a great part of our festival. This was your second year with us and we are so glad you wee able to be part of our line-up.
-Becki Carlson, Exec. Director Strawberry Festival, Roseville, CA
&copy Copyright 2017 Victor Kent
530-519-8534
Email